A DeCoverly English Setter is a high quality investment that will bring its owner many years of enjoyment, both in the field and at home.
The quality of our Setters stems from the standards we adhere to and the full-time, professional nature of our operation. We have made significant investments in our facilities, our breeding program, the health of our line, and in our customer service and guarantees.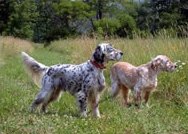 We feel that we have the strongest guarantee in the industry. We go to great lengths to produce healthy, genetically sound English setters. We want to make sure that our customers are completely satisfied, and provide the following warranty:
Pennsylvania has a very good Lemon Law for dogs. We provide an abbreviated copy of the law for all new owners and a link to the full law online. As good as the law is, we feel it doesn't go far enough and add to it as follows:
We extend the provision on infectious diseases to two weeks.
We extend the State warranty to cover a 10 YEAR working life from date of birth for Hip Dysplasia, Elbow Dysplasia and Bilateral deafness
Additionally, any untrained dog may be returned for a full refund within 30 days for any reason whatsoever.