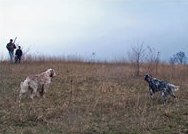 DeCoverly's Socialization Program has been designed from the start to make sure each puppy has the correct exposure to humans and the outside world. We evaluate individual personalities and then work to curb the more aggressive ones and encourage any shy puppies.
These basics are also the beginnings of our puppy evaluations, which guides which puppies we will keep from a given litter to be evaluated for breeding. The handler provides insights into conformation and structure, as well as the early stages of personality and intelligence.
DEVELOPMENT
Our developmental approach to raising and training Setters is another key component of the DeCoverly Difference. It is tailored to the personality and temperament of these loyal companions and works wonders on their growth and education.
There are times and places for all of the training tools and tricks, but they should not be the primary teaching modality. The instincts, intelligence, and desire to please of a well-bred English Setter, when developed through a relationship with a human partner, allow the best things to happen.
This method takes more labor, thought and patience than force methods and the results can be spectacular.
CONTINUED DEVELOPMENT AT HOME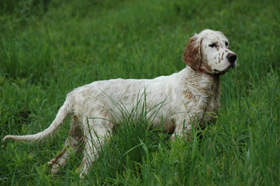 Your DeCoverly English Setter will develop best if it is in the house and a member of the family. You cannot train well from a distance and everyone in the home must participate. Each puppy goes home from DeCoverly with an outline of proper development techniques for its first year of life.