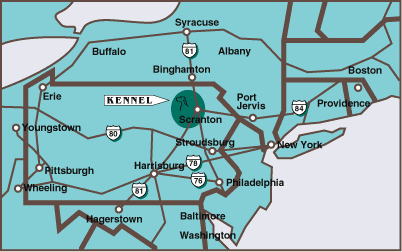 Traveling via Rte. 81 – Exit 194; Traveling PA Turnpike, N.E. Extension – Exit 39
After exiting at exit 194 or 39, turn on to Route 6 West/11 North and proceed for 1.6 miles. Turn Left on Route 307 North (Winola Road)
Follow for 9 miles to Post Hill Road, Turn Left, proceed 1 mile to DeCoverly Kennels.
GPS Coordinates for Navigation: North 41-29-34 | West 75-51-18
or
Enter "DeCoverly Kennels" in the search bar of Google Maps for directions straight to our driveway.