DeCoverly offers several Retriever Training Programs, which are as follows:
Our "Upland Retriever Program" lasts 5-7 weeks. Dogs completing the program will be:
Finding and flushing birds
Trained in basic field obedience – responding to "Come In" whistle and "Check" whistle to control range
Hunting effectively – showing a knowledge of cover and scenting conditions
E-collar conditioned
Hunting dead
Retrieving (based on natural aptitude, if not additional training time may be required)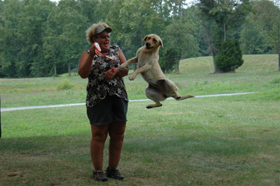 Our "Started Waterfowl Dog Program" is suitable for the Junior Hunter Titles and first season hunting dogs and lasts approximately 12-16 weeks. Dogs completing the program will be trained in:
Trained in advanced obedience – off leash here, heeling, whistle sits, etc.
Ecollar conditioned
Retrieving to hand, the trained retrieve
Trained in single land and water marks, intro'd to double marked land and water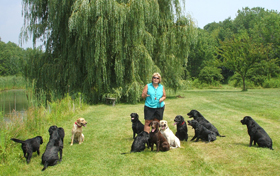 Our "Finished Retriever Program" is suitable for Senior to Master Hunter Levels. Started Waterfowl or comparable program is a prerequisite. This program covers complex marking and advanced handling skills. It is several months , depending on level of training desired.
For more information, view our brochure.